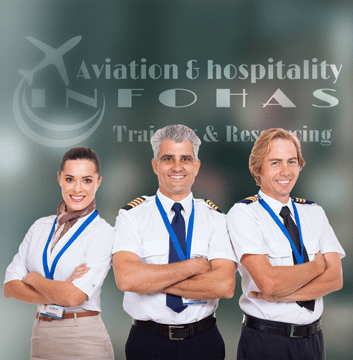 INFOHAS Group; is an accredited cabin crew training Institute by the Moroccan Ministry of Education and Professional training as well officially licensed by the Civil Aviation authority.
INFOHAS was established in 1996; it has become the venue for professional airline's staff, sales staff, and hospitality staff among other, to be trained and given priority to work in Bahrain, Qatar, Oman and the United Arab Emirates.
The Institute is run by an experienced Management team from the field of aviation training, hospitality, recruitment and events organization. Our Management team is officially certified by the Moroccan Government as a training expert in for the aviation field.
INFOHAS has deployed since 1996, more than 3000 workers all over the world. These workers and their employers will attest to our dependability, honesty and commitment.
INFOHAS training and recruitment business is to connect companies with top employee prospects in a wide range of markets sectors and geographic locations.
more than 3000 workers all over the world.
OUR VALUES CONSIST OF THE FOLLOWING
We offer our clients a range of services and solutions
Moreover, our reputation is associated with personalized and serious service, coupled with the most ethical and professional standards in the training and recruitment services.
We assure you that you will meet the right people; our priority is to provide results that surpass the expectations of our client; we also instill a personal commitment to excellence in our recruitment staff, and we remain actively involved throughout the full cycle of the services' contracting process.
We have provided candidates with top corporate airlines, hotels and duty-free companies,mainly from Arabic countries and the Middle East. As a training group, we offer you high standard services. The Institute has trained more than 3000 candidates who actively working in many worldwide prestigious airlines and commercial companies such as:
Qatar aviation services Doha intl Airport
The Ritz Carlton Qatar & Bahrain

Intercontinental AbuDhabi

Jumeirah Internatinal Hotels

Burj AlArab & Emirates Towers