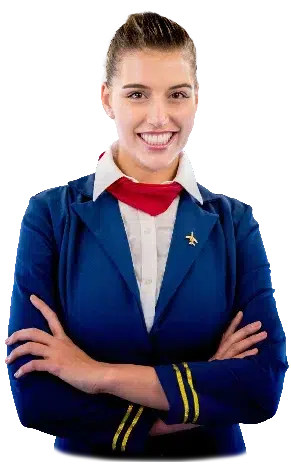 HOSTS AND HOSTESSES TRAINING MOROCCO
Ground staff assist passengers prior to boarding. They check in passengers and also carry out customer service tasks such as booking tickets and helping passengers claim refunds after delays or cancellations.
As a customer service agent or 'stewardess or ground staff', you will be responsible for answering all passenger enquiries based on their needs regarding the services offered by an airline; as well as providing them with all the necessary information regarding your organisation. In addition, you will also be responsible for receiving any complaints, criticisms or claims by dissatisfied passengers or customers. In addition, you must use your interpersonal skills to find solutions to resolve any kind of problem or dissatisfaction.
This course combines classroom lessons with practical learning. You will acquire a thorough knowledge of the principles and operational procedures of the aviation industry and airlines. You will receive appropriate technical training, polish your personality and learn how to handle customer requests effectively. Our teachers will teach you to improve your self-presentation and communication skills.
Training Objectives :
Acquire a culture of excellence in customer service and communication
This course covers the principles of customer service from the point of view of passengers, airlines and airport companies. Learn how to manage different categories of clients and services and how you can meet their needs within your organisation.
Training Assets
What you will learn !!
Understand the principles of customer service excellence
Implement a customer service program leading to the creation of a quality service culture throughout the organisation
Concentration on the main axes to customer satisfaction.
Evaluate current customer service tools, e-services and social media applications.
DURATION OF HOSTESS TRAINING
Airport & hospitality  Customer Service Agent
Authorizations: 18 months of training, including 3 months of possible internship or a possible direct employment
During the training, internship or eventual hiring in company with additional training, to better know the various professional fields.
PREREQUISITES OF TRAINING
Participants must have an acceptable level of English language communication and other prerequisites for this career, such as:
Feeling comfortable working with the public and facilitating communication are essential qualities.
Good interpersonal skills, diplomacy and politeness because you will be the first contact with the passengers.
Be honest and discreet and have a sense of responsibility, because you will have to get confidential information from travellers.
Be autonomous and resourceful, because you will often be programmed to work alone and you will have to be able to solve problems or complaints from passengers.
Training Modules
COURSE CONTENT
Airport Environment and Regulatory Areas.
Services and terminals.
Basic principles of airport operating regulations.
Analysis of airport facilities.
Client orientation system and airport infrastructure.
Passenger profiling.
Service profiling of an airline.
Passing and analysing their needs.
Maximise
Use of social media and e-services
Manage comments and interact.
Multicultural awareness
Analysis of stakeholder needs.
Basic quality control.
Airport activities.
Airport security and safety.
Identification and handling of dangerous goods.
Basic knowledge of first aid.
Final exam.
THE ACCREDITED DIPLOMA :
The accredited diploma, theoretical and practical, is awarded to the candidates after the final examination according to the standards required by the international civil aviation organizations.