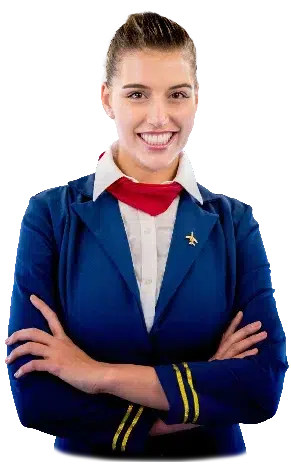 HOSTESS AND HOST TRAINING MOROCCO
Become a Hostess or Host with Specialized Training
Hostesses and hosts play a critical role in aviation and hospitality, assisting passengers and customers during check-in and boarding. They handle customer service tasks like ticketing, booking, and processing refunds after delays or cancellations.
In this customer-facing position, you will answer passenger and guest queries, provide information about your airline or hotel, and address any complaints or issues. Additionally, you must leverage interpersonal skills to resolve problems and improve satisfaction.
Our accredited training program combines classroom lessons with practical learning to fully prepare you for success as a hostess or host. You will gain comprehensive knowledge of aviation and hospitality principles and procedures. Additionally, you will receive targeted technical instruction to boost your self-presentation, communication, and customer service abilities.
By completing our specialized training, you will have the skills and confidence needed to thrive as a hostess or host. The industry expertise and personal polish gained will enable you to deliver exceptional service, manage requests, and resolve issues for customers.
Master Customer Service and Communication for Hostess and Host Roles
This intensive 18-month course will transform you into a skilled hostess or host for airports, hotels, and other hospitality positions. It's tailored for those seeking an exciting, luxury career path interacting with diverse global customers. With aviation and hospitality jobs expanding worldwide, this in-demand profession requires dedication, intelligence, and superb customer service.
Our program covers the core principles of customer service from both guest and corporate perspectives. You will learn technical skills plus interpersonal techniques to address various customer needs, handle services, and resolve issues. Through interactive training, you will gain strategies to cater to different customer types, meet individual and group expectations, and deliver exceptional service within an organization.
Additionally, we build critical skills like communication, teamwork, personality development, and customer service mastery to help you thrive as a hostess or host. The varied day-to-day experiences will utilize your training to ensure you ensure customer comfort and satisfaction. Moreover, these versatile skills will prove valuable across all aspects of life. Furthermore, our curriculum aligns with global hospitality standards to fully prepare you for the rigors of selection in aviation and hotels.
Upon graduation, you will have the expertise, polish, and confidence to succeed as a hostess or host, providing world-class customer experiences.
Valuable Skills You Will Gain
Our training program equips you with crucial skills and knowledge, including:
– Comprehending the core principles of superior customer service. You will learn the tenants of service excellence.
– Implementing customer service programs to build a culture of quality service throughout an organization. We will focus on strategies to embed stellar service across all operations.
– Concentrating on the main drivers of customer satisfaction. You will discover the key factors that lead to happy, loyal guests.
– Evaluating current customer service tools, e-services, and social media applications. The training will teach you how to analyze and optimize cutting-edge platforms for service delivery.
n summary, you will gain expertise in customer service foundations, implementing organizational programs, understanding customer needs, and leveraging technology. Overall, the comprehensive training will provide you with the skills to excel across all key areas of hospitality customer service. These comprehensive skills will empower you to thrive as a hospitality professional dedicated to amazing guest experiences.
DURATION OF HOSTESS AND HOST TRAINING
Length of Hostess and Host Training Program
– Airport & Hospitality Customer Service Agent
Our 18-month training program includes 3 months of internship or direct airline/hospitality employment for additional hands-on learning.
The comprehensive curriculum covers all facets of customer service expertise. During your training, internship, or job placement, you will gain first-hand experience providing service across various professional settings.
Therefore, this allows you to put your skills into practice while exploring diverse hospitality roles. In summary, our goal is to fully prepare you for a successful career as an outstanding hostess or host.
PREREQUISITES OF HOSTESS AND HOST TRAINING
Hostess and Host Training Curriculum
Our training program provides comprehensive education in all aspects of the hostess and host role. The curriculum includes:
– Customer Service Skills: You will learn techniques for providing exceptional service, addressing customer needs, resolving issues, and ensuring satisfaction.
– Communication and Interpersonal Abilities: We build advanced skills in communication, emotional intelligence, teamwork, and interacting with diverse guests.
– Industry Knowledge: You will gain expertise in aviation and hospitality standards, principles, regulations, and best practices.
– Technical Proficiencies: We teach the specific technical abilities required for the job, including computer systems and check-in/boarding processes.
– Personal Development: The training focuses on professional presentation, etiquette, self-confidence, stress management, and excelling in a luxury service profession.
The complete curriculum equips you with the customer service, communication, industry, technical, and personal skills essential for a stand-out career as a hostess or host.
Training Modules
COURSE CONTENT
Course Curriculum Overview
Our comprehensive training covers all key areas:
Airport, Hotel, and Regulatory Environments: Learn airport and hotel operations, terminals, regulatory principles, and facility analysis.
Customer Service: Discover passenger profiling, airline service profiles, identifying needs, and maximizing satisfaction.
Technology: Master social media, e-services, managing comments and interactions.
Interpersonal Skills: Build multicultural awareness, stakeholder analysis, and quality control.
Operations: Understand airport/hotel activities, security, safety, dangerous goods handling, and first aid.
Personal Development: Enhance personality, soft skills, and professional demeanor.
Assessment: Demonstrate proficiency through exams and evaluations.
In summary, our immersive training provides the customer service, operational, technical, and personal skills essential for hostesses and hosts to deliver outstanding experiences across aviation, hotels, and hospitality.
PERSONALITY DEVELOPMENT AND SOFT SKILLS
Effective communication has become an important tool for achieving success in all professions. It is something that one cannot afford to neglect. To support the overall development of all students, INFOHAS offers free Eng-lab spoken English courses. Eng-lab is a scientifically designed training module that utilizes the most important and inherent methods of language learning to help students speak English fluently. Therefore, all INFOHAS students can benefit from this free training and face the world with new confidence. Mastering English communication skills is critical for career advancement, and INFOHAS's Eng-lab program provides an excellent opportunity to build this expertise.
LEAP
INFOHAS also offers a free "Leap" personality development program to all its students. This program is designed to build a warm and confident personality by generating a positive self-image. By participating in the personality development program, trainees are expected to be able to maximize their full potential.
The comprehensive program enables students to master all the skills and expertise required. Additionally, all the knowledge gained from the program is complemented by behavior management techniques and mastery of dress etiquette. The Leap program includes highly interactive and energetic sessions that can transform a personality.
The methodology used ensures that even unmotivated candidates feel enthusiastic and that the program leaves a lasting impression not only in their professional lives but also in their personal lives. It is specifically designed to develop individuals' soft skills by placing each person in a virtual situation where they must learn and improve these vital skills. Being a confident person and an effective communicator is one of the most valuable assets a young man or woman can possess today. While INFOHAS offers all this free of charge to its students, it ensures that students are not limited in speaking skills. Specifically, career-oriented presentations, group discussions, and other soft and cognitive skills are thoughtfully taught to our students.
In selected centers, we also prepare video presentations that candidates can later use to boost their job prospects. In summary, the program builds all the skills to master communication and succeed professionally and personally. Live expressively!
Exciting Careers Await in Airlines and Hospitality
With continued growth in aviation and hotels, companies need thousands of qualified candidates with the right knowledge and skills. Our graduates have endless opportunities worldwide.
A career as a flight attendant, ground staff, cruise ship hostess, or other hospitality role offers high salaries, great benefits, excellent work environments, and the chance to pursue your passion. This high-demand field lets you utilize your abilities.
After training, you can build a rewarding career:
– Airlines/Aviation: Flight attendant, traffic assistant, ticketing/booking agent, customer service, sales/marketing, call centers
– Hotels: Receptionist, F&B manager, guest services, customer service
– Cruise Ships: Steward/hostess, customer service manager, F&B coordinator
– Travel Agencies: Reservation agent, tour coordinator, counter staff
– Freight: Sales, space reservation, administration
– Airports: Provide passenger and baggage assistance, facilitate transfers, deliver excellent service
In summary, our program opens doors for you to thrive in diverse, vibrant hospitality and travel roles worldwide. The industry needs motivated, trained candidates like you.
Real practice on site
INFOHAS offers all its trainees real-life practical orientation in one of the leading hospitality companies at no extra cost.
Additionally, students who wish can also go to foreign countries for practical training, available at an additional cost. In summary, our program provides invaluable hands-on experience with top employers locally, and globally for those interested.
THE ACCREDITED DIPLOMA :
The accredited diploma, with both theoretical and practical components, is awarded to candidates after the final examination according to standards required by international civil aviation organizations.
Theoretical training and testing
 Practical training and testing
In summary, graduates earn an accredited diploma by demonstrating proficiency in the theoretical and practical skills that meet global aviation standards.