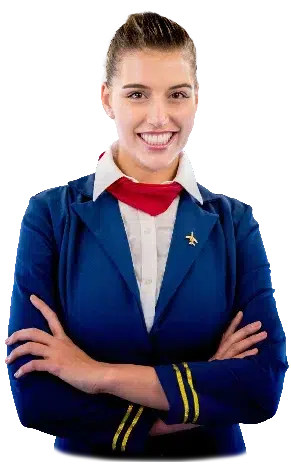 HOSTESS AND HOST TRAINING MOROCCO
Hostess and Host in the aviation and hospitality industry assist passengers and customers prior to boarding and check-in. They check in customers and also perform customer service tasks such as booking tickets and helping customers claim refunds after delays or cancellations.
As a customer service agent or 'hostess and host or ground staff', you will be responsible for answering all customer queries based on their needs regarding the services offered by an airline or hotel company, as well as providing them with all the necessary information about your organization. In addition, you will also be responsible for receiving any complaints, criticisms, or claims from dissatisfied passengers or customers. In addition, you must use your interpersonal skills to find solutions to resolve any type of problem or dissatisfaction.
This course combines classroom lessons with practical learning. You will gain a thorough knowledge of the principles and operational procedures of the aviation and hospitality industry. You will receive appropriate technical training, polish your personality and learn how to deal effectively with customer requests. Our teachers will teach you to improve your self-presentation and communication skills.
Training Objectives :
Acquire a culture of excellence in customer service and communication
This 18-month course is designed to transform your life. This course is designed for people who want to become airport, reception, hotel hostesses. Many young people are opting to become a hostess as a career option in their own right because of the luxury of the career path, the exciting experience of serving and being served, and the interaction with different types of customers of all nationalities. The liberation of hospitality and airline jobs has opened up many opportunities for employment in these areas. This profession requires hard work, commitment, intelligence, and total dedication.
This course will address the principles of customer service from the perspective of customers, airlines, airports, and hotel companies. Techniques, interpersonal skills, as well as technical skills, will be covered. You will learn how to handle different categories of customers, different types of services, including meeting and assisting techniques, and how to meet the individual and collective needs of customers within your organization.
The job is to carry out safe service tasks that ensure the customer is comfortable while receiving a high-quality service. Life is always varied when you work as a host/hostess. Your training in communication, teamwork, personality development, and customer service skills will also be useful and can be transferred to other areas of your life. The INFOHAS course is in line with international hospitality industry standards. It prepares you to handle the most difficult moments of selection in the hotel and aviation industries.
Training Assets
What you will learn !!
Understand the principles of customer service excellence
Implement a customer service program leading to the creation of a quality service culture throughout the organization
Concentration on the main axes to customer satisfaction.
Evaluate current customer service tools, e-services, and social media applications.
DURATION OF HOSTESS AND HOST TRAINING
Airport & hospitality  Customer Service Agent
Authorizations: 18 months of training, including 3 months of possible internship or a possible direct employment
During the training, internship, or eventual hiring in company with additional training, to better know the various professional fields.
PREREQUISITES OF HOSTESS AND HOST TRAINING
Participants must have an acceptable level of English language communication and other prerequisites for this career, such as:
Feeling comfortable working with the public and facilitating communication are essential qualities.
Good interpersonal skills, diplomacy, and politeness because you will be the first contact with the passengers.
Be honest and discreet and have a sense of responsibility, because you will have to get confidential information from travelers.
Be autonomous and resourceful, because you will often be programmed to work alone and you will have to be able to solve problems or complaints from passengers.
Training Modules
COURSE CONTENT
Airport environment, hotel, and regulatory areas.
Services and terminals.
Basic principles of airport operating regulations.
Analysis of airport facilities.
Client orientation system and airport infrastructure.
Passenger profiling.
Service profiling of an airline.
Passing and analysing their needs.
Maximise
Use of social media and e-services
Manage comments and interact.
Multicultural awareness
Analysis of stakeholder needs.
Basic quality control.
Airport and hotel activities.
Airport security and safety.
Identification and handling of dangerous goods.
Basic knowledge of first aid.
Personality development.
Development of soft skills.
Final exam.
PERSONALITY DEVELOPMENT AND SOFT SKILLS
Effective communication has become an important weapon in climbing the ladder of success in all professions. It is something that one cannot afford to neglect. As part of its mission to support the overall development of all its students, INFOHAS offers free Eng-lab spoken English courses to interested INFOHAS students. Eng-lab is a scientifically designed training module for learning to speak English fluently. It uses the most important and inherent methods of language learning. All INFOHAS students can benefit from this free training and face the world with new confidence.
INFOHAS also offers a free "Leap" personality development program to all its students. This program is designed to build a warm and confident personality by generating a positive self-image. By participating in the personality development program, trainees are expected to be able to maximize their full potential.
The comprehensive program enables students to master all the skills and expertise required. And all the knowledge gained from the program is complemented by behavior management techniques and the mastery of dress etiquette. The Leap program includes highly interactive and energetic sessions that can transform a personality. The methodology used ensures that even unmotivated candidates feel enthusiastic and that the program leaves a lasting impression not only in their professional lives but also in their personal lives. It is specifically designed to develop the individual's soft skills by placing each person in a virtual situation where they cannot escape learning and improving these vital skills. Being a confident person and an effective communicator is one of the most valuable assets a young man or woman in the World can possess today. While INFOHAS offers all this free of charge to its students, it ensures that they are not limited by anything when it comes to speaking. Special career-oriented presentations, group discussions, and other soft and cognitive skills are thoughtfully taught to our students. In our selected centers, we also prepare video presentations that candidates can later use to improve their job prospects. Live expressively!
With the continued expansion of the airline and hospitality industry, airlines and hospitality companies are looking for thousands of applications from qualified people with the knowledge and personality required for the job. A candidate who completes this course has many career opportunities open to him/her. With foreign airlines and 5-star hotels also hiring Moroccans, the whole world is open to you to develop your career.
This is a very promising career that offers high salaries, great benefits, an excellent working environment, and, most importantly, the opportunity to do what you've always wanted to do.
It's a career where your skills will be in high demand. Airlines and hospitality industry – flight attendant, steward, traffic assistant, ticketing/booking staff, customer service agent, sales/marketing staff, airline call centers, 5 Stars hotels guest services agents, etc.
Hotel industry:
As reception staff, F&B manager, customer service manager, etc.
Cruise ships:
As steward/ship hostess, customer service manager, F&B coordinator, etc.
Travel agency:
As a counter staff, tour coordinator, reservation staff, etc.
Freight agency:
In administration, sales, space reservation, etc.
Airport services:
The airport services agent provides assistance to passengers at the airport. They carry out passenger and baggage check-in (check-in duties) and facilitate transfer formalities while ensuring the quality of ground handling.
Real practice on site
INFOHAS offers all its trainees a real-life practical orientation in one of the leading hospitality companies at no extra cost. Students who wish to do so can also be sent to foreign countries for practical training at an additional cost.
THE ACCREDITED DIPLOMA :
The accredited diploma, theoretical and practical, is awarded to the candidates after the final examination according to the standards required by the international civil aviation organizations.