INFOHAS
Welcome to the website of Infohas Institute, a fully accredited private flight attendant and hospitality training institution founded in 1996 in Rabat, the capital of Morocco.
We train young candidates so that they can join the national and international job market in the fields of civil aviation and hospitality as Flight Attendant, customers service agent and airport ground staff, but also as Maritime hosts and hostesses in Morocco and Worldwide. Moreover, the Moroccan Civil Aviation Authority has homologated the Institute INFOHAS as one the training leader in Morocco. To date, thousands of our graduates work in the most prestigious airlines and international airports as Cabin crew and ground staff.
Our Institute of flight attendant and Tourism Professions training in Rabat is proud of its achievements, and all its graduates recognized nationally and internationally since its creation.
Who are we?
Since 1996, the INFOHAS Institute is one of the most renowned flight training schools in the world! Most of the flight training schools for flight attendants and stewards only show you how to get an interview. However, unlike other institutions, INFOHAS Institute offers you complete and exhaustive training in the field of aviation. Our programs include the same high-quality subjects and tutorials used by the airlines, which will allow you to gain experience relevant to these airlines.
A flight attendant and hospitality training:
Imagine preparing yourself for an exciting career full of travel around the world, while training at one of the best flight attendant training schools in the world.
International experts and world-renowned aviation professionals have founded the INFOHAS Institute. We work with airlines from around the world to provide world-class aviation training.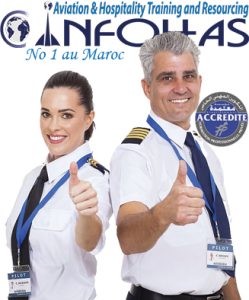 150
Graduates
annually
500
Job offers
annually
Ready for take-off! Register Now
Flight attendant Morocco
Chief Purser and what job they do? The profession of Chief purser: A Flight Attendant or a steward, because of his seniority, can become a Chief Purser. It is the evolution of the job. Chief Purser [...]
Flight attendant Morocco
Each airline is unique and may, therefore, be looking for different traits in the flight attendant, airport service agent and lounge hostess candidate; that this is a physical appearance or a personality type. However, the universal role of the flight attendant (cabin crew) is the same regardless of the airline.
Flight attendant Morocco
The only thing that makes one airline significantly different from another is simply the quality of customer service (onboard service and airport service). 
Skills Center
In conclusion, INFOHAS is considered the most reliable Institute in Morocco, which is why airlines choose it as a privileged place of recruitment thanks to its honesty, modesty and efficiency. Besides, the Institute is the only one to have an internal department of recruitment and orientation specially designed to support and help graduates to integrate the career of their dreams. Finally, it is the Institute with the most conventions with the most prestigious companies in the Middle East.