CABIN CREW JOB – AIR HOSTESS & STEWARD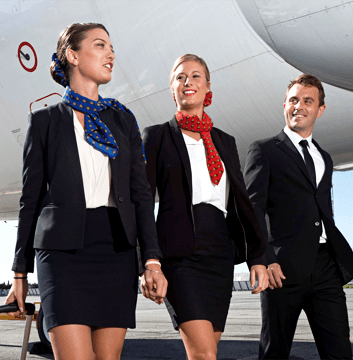 What is a Cabin Crew job?
Cabin crew job of Commercial airline flight attendants are the largest single employment category in the air transportation sector.
In the United States, airlines employ approximately 80,000 flight attendants and recruit nearly 15,000 each year.
A Flight Attendant job position is one of the most coveted and desired in the travel industry. One of the best ways to break into the airline industry is to become a commercial flight attendant by studying.
The cabin crew are responsible for the comfort and safety of passengers during their flight. This job definition translates into a variety of functions and tasks. This definition reflects the importance of the tasks and duties performed by the cabin crew. Thus, airlines must meet the requirements of the International Civil Aviation Organization. These companies, therefore, ensure that they provide the material and equipment required to ensure that each cabin crew member can carry out his or her work seriously and efficiently. Of course, the effectiveness of the cabin crew depends entirely on the training they have received.
Airlines are looking for candidates who are fluent in English (oral and written) and have good communication skills. Thus, they must have the required qualifications in addition to experience in customer service. Foreign language skills will be essential and are then mandatory for cabin crew members.
"To efficiently perform such duties of this Job would, of course, depend on the effectiveness of the training received."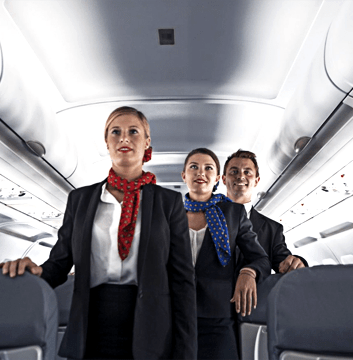 Cabin Crew job and required profiles:
A flight attendant with experience and previous training will have more ease in finding work. Training encourages airlines to choose a trained candidate rather than one without prior training because the latter may then encounter difficulties.
Therefore, to join the world of flight attendants, it is necessary to follow a nationally and internationally recognized training program.
Training must be at an institution whose curriculum complies with the new training regulations and whose level of activity is recognized by most commercial airlines.
Therefore, the essential first prerequisite step to joining the flight attendant world is to engage in an internationally recognized training program at an institution whose curriculum complies with new training regulations and whose training standards are acceptable to the average commercial airline.
Finally, with many different training schools available both regionally and internationally, INFOHAS Institute is among the top choices for airlines looking to recruit well-trained new graduates for flight attendant positions. Cabin crew Morocco